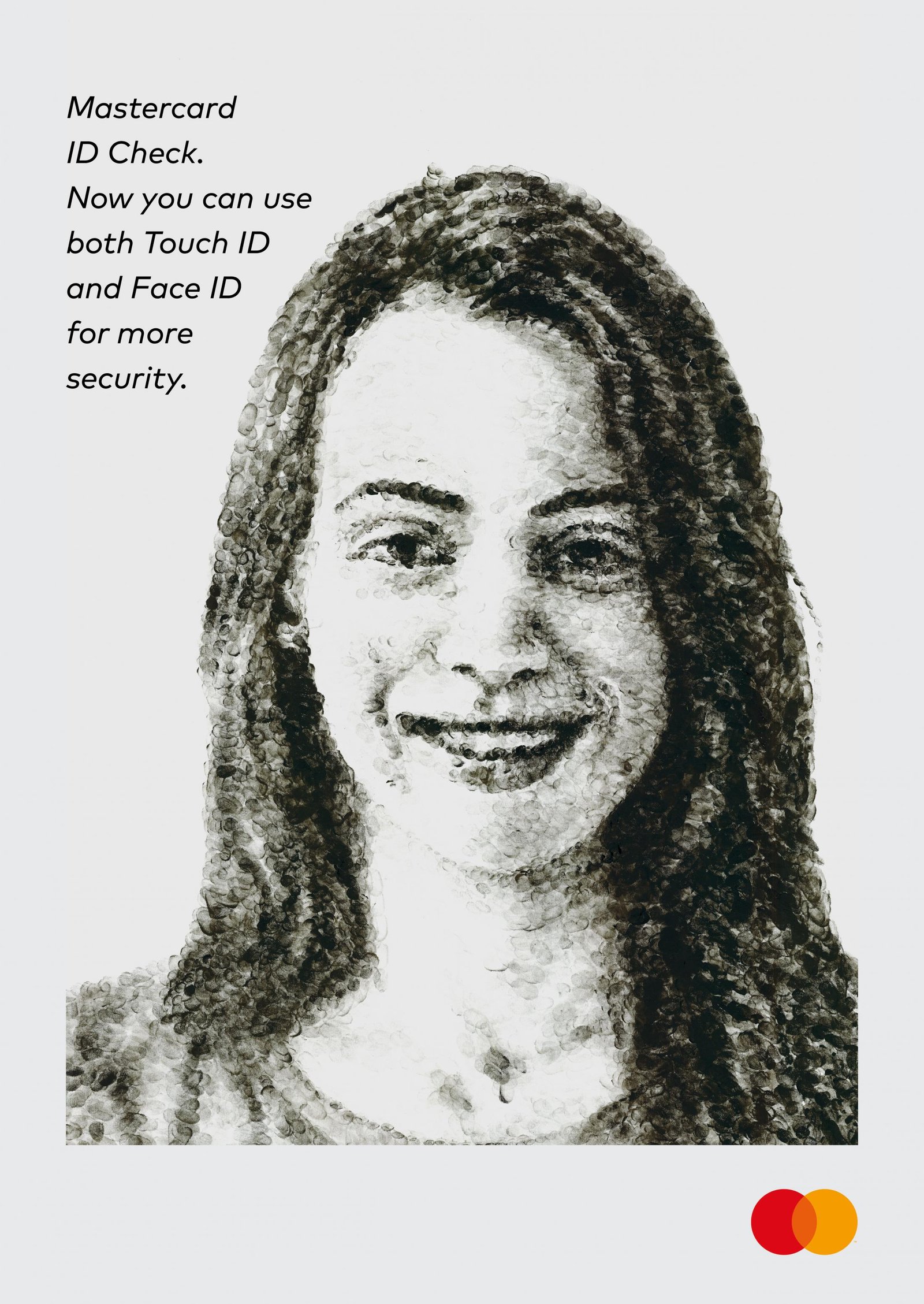 Description: With the ongoing PSD2 revisions and the SCA mandates close to go live, biometric authentication is becoming a hot issue within the European society.
Mastercard, as ingenious technology company, raised swift understanding about biometric by creating
 a series of portraits using a unique technique – fingerprints. Showcasing the advantages of face recognition and fingerprint payments through a special art form of precision, placing Mastercard as a technological leader in the payments industry, offering its customers the safest way to pay. This project also emphasized that the technology should not be mistrusted.
Jan Petrov, a renowned artist was invited to paint portraits using only fingerprints and exhibit them at the Authentication & Biometry press conference. The viewers observed how the artist crafted such a portrait, live. The portraits were auctioned, this way everyone could buy the exhibited artworks with face recognition payment.
Caption: Mastercard ID Check. Now you can use both Touch ID and Face ID for more security.
Credits:
Advertising Agencies: McCann, Prague, Czech Republic / McCann, London, UK
President Creative Europe, Global ECD: Adrian Botan
Chief Creative Officer: Razvan Capanescu
Executive Creative Director: Roy Cohen
Senior Creative: Hetu Negri
Senior Creative: Juan Peirano
Group Creative Director: Klára Palmer
Art Director: Ondřej Kroupa, Otakar Čihák
Copywriter: Adam Roučka
Painter/ Artist: Jan Petrov
Senior Account Manager: Ruta Buciunaite
Account Director: Radka Bušová
Account Manager: Monika Semerádová
Creative Excellence Manager Europe: Carmen Bistrian
PR & Communication Manager: Alice Reindlova
DTP: Benjamin Mulderer
Agency Producers: Kamila Tehranian, Antonin Milata (Renegadz)
Movie Director: Ondřej Urbanec